Building Android interfaces using Corona
I've tinkering with this for a while but I never seem to have enough time in the day to make sustain progress. Rather than keep this to myself I thought I would post up what I've got and let others get involved with ideas, questions, coding and general advise of what they think.
If you have an android device you can download this application (see screenshot below) and try it. It'll talk to my house livebox iServer so you'll see what I see on my joggler.
Don't worry about pressing any of the butons nothing is wired up behind them so I'll just see xAP traffic and state changes on my joggler, nothing will turn on/off.
On your android brower download - http://www.dbzoo.com/public/xap-ui-demo.apk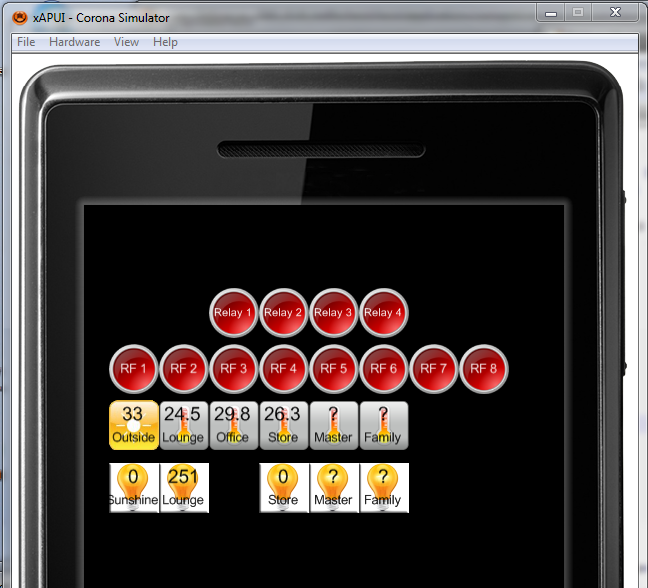 The code is very rough and ready, and those that have been playing around with plugboard for a while will be happy to know this is all coded in LUA too.... Much of the Framework from the livebox to do with callbacks, Frames and the like I've kept the same for simplicity of making a transition of your knowledge.
I won't comment too much on how things work. The curious will soon discover this for themselves and can ask questions for things you do not.
Anyway HAPPY EASTER !
Brett
PS: To play you need the cool development environment from: https://www.coronalabs.com/
29 March, 2013 - 08:47
#3
Adding a 'Quit' button
This runs well onm my HTC OneX. However, the app doesn't appear on the list of 'running' applications. This makes it a bit awkward to navigate back to the app or to shut it down/restart it.
Added a 'Quit' button with the following code.
local widget = require "widget"
local function onButtonRelease( event )
local btn = event.target
native.requestExit()
end
local button = widget.newButton{
label = "Quit",
font = "HelveticaNeue-Bold",
fontSize = 18,
yOffset = -2,
labelColor = { default={ 65 }, over={ 0 } },
emboss = true,
onRelease = onButtonRelease
}
button.x = display.contentCenterX
button.y = display.contentCenterY