USB Mini-B breakout adapter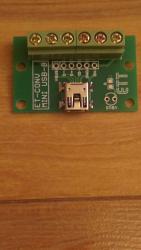 SKU: USB-miniB
USB Mini-B Adapter, ideal for testing and experimenting. Each connection point is brought out onto a six way, screwdown, terminal block. Option to fit a six way molex connector (not supplied). Also an option to fit an LED/resistor (not supplied).
Vbus, D-, D+, IO, GND and Shield connections are all available. Legend on PCB makes for easy identification of connections. Great for connecting your development boards or controllers to a USB cable.
If you want to see the type of USB plug that fits this part, visit http://upload.wikimedia.org/wikipedia/commons/d/d6/Usb_connectors.JPG - it's the third connector from the left.
Board size is approx 41 x 25mm. Board has four, pre-drilled, mounting holes.